The Rotorua Breast Cancer Trust held the bi-annual Winter Series event, on Tuesday August 2nd at 7.00 pm at the Millennium Hotel in Rotorua and we were really pleased with the numbers that attended.
We all enjoyed both our speakers:
Nicole Winters is a clinical psychologist and who founded a not-for-profit mental health clinic before moving here to work with the Cancer psychological and Social Support Service at Lakes DHB. Nicole gave us much to think about and was a brilliant speaker.
Wayne Borell a health promoter for the Waikato/Bay of Plenty Cancer Society. Wayne shared his passion for nutrition including how nutrition can be a real tool for us to use in fighting back.
Again we want to say a BIG THANK YOU TO BOTH NICOLE AND WAYNE.
Kind regards,
The Rotorua Breast Cancer Trust team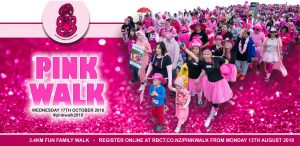 The 2018 Pink Walk is on Wednesday 17th October 2018!
Registrations/donations will be open online by 20th August 2018!
Visit the Facebook event listing for details and invite your family and friends! Talk to everyone you know and start organising your pink outfit, because it's going to be a fun and unmissable evening.
The Pink Walk Event Team are currently seeking sponsors for this year's event. With the help of our generous sponsors, we are able to put on a great evening of fun and entertainment for the Rotorua community.
Proceeds from our annual PINK Walk helps us to support members of the Rotorua Community living with Breast Cancer in a number of ways including regular support groups, the PINC Physiotherapy Pilates program, the recent Winter Series, individualised help if needed and more.
Do you know a business that would like to sponsor the 2018 Pink Walk? Please ask them to connect with us by email: pinkwalk@rbct.co.nz. There are a number of sponsorship options available, you can find them here