Start planning your PINK costumes, get your friends and family together and enjoy a fun evening of love and laughter, celebrating life and sharing a moment of remembrance.
This is the Trust's major fundraising event which helps us to support those with breast cancer in the Rotorua community. Proceeds from registration and sponsorship help to fund education, tailored support, exercise programmes and information sharing. Thank you so much for getting involved!
~~ Register NOW to be eligible for some awesome prizes! ~~
General registration for all those aged 13 years and over: $10 per person
Children aged 12 years and under: Koha
~~ Prize Categories ~~
Best Dressed Female
Best Dressed Male
Best Dressed Child
Best Dressed Group
Best Dressed Work Place
~~ Helpful Links ~~
Sponsorship Enquiries: https://rotoruabreastcancertrust.co.nz/2018-pink-walk-sponsors/
Pink Walk FAQ: https://rotoruabreastcancertrust.co.nz/faq-for-pink-walk/
Pink Walk Rules & Conditions: https://rotoruabreastcancertrust.co.nz/rules-conditions/
Enter the Pink Walk Cupcake Colouring Competition!
WIN an Art Set and registration for two adults and two children to the 2018 Rotorua Pink Walk ($40 value)! Print and colour the image below, then ask an adult to take a photo of it and email it to: pinkwalk@rbct.co.nz.
The winner will be chosen by WildSide Promotions' Layla Robinson and the winning image will be decided based on originality and how mouth-watering the cupcakes look! GOOD LUCK!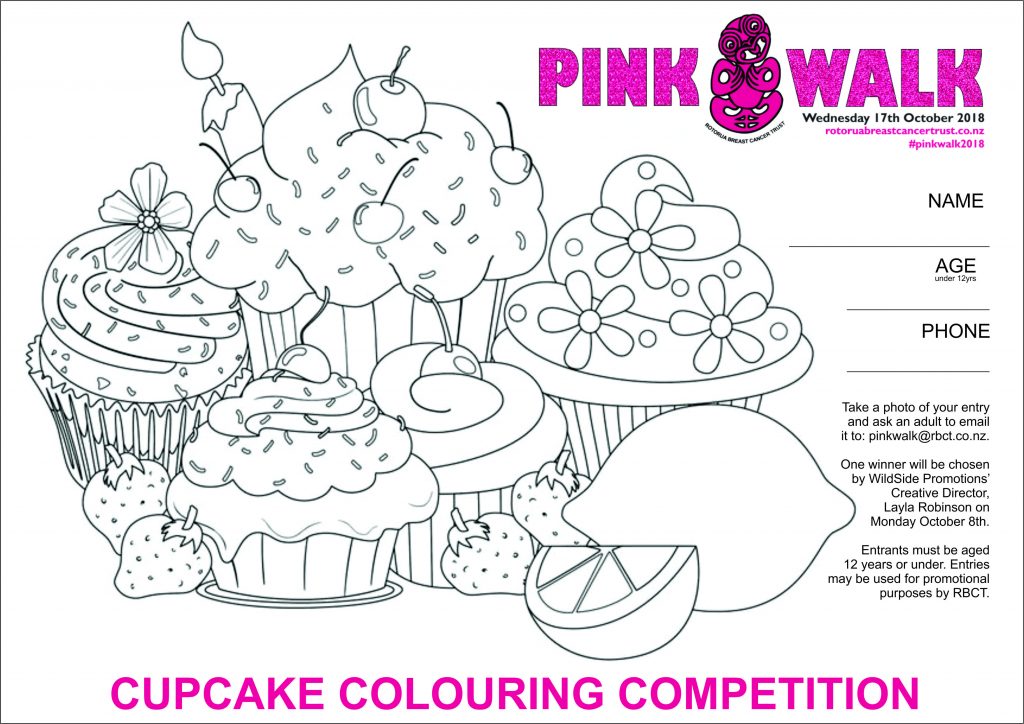 Where does your Pink Walk money go?
The Rotorua Breast Cancer Trust has helped women and their families in a number of ways. Whether it is home help after surgery, Pink Pilates to improve movement, Can B Fit (NZ) after breast cancer rehab programme to reduce or manage symptoms of lymphedema, or a care package because life has just got too tough.
Your kind donation makes these things possible.
The Trust provides an incredible support network to those affected by breast cancer and their families. We also support people affected by any cancer. So if you need help or know of someone that does, please contact us.
We are here to help.
Contact us on 022 424 6616  or info@rbct.co.nz.