Our Mission Statement
"Supporting and caring for those affected by breast cancer in our community"
All of our Rotorua Breast Cancer Trustees are volunteers. Thank you to all who have supported our community by supporting us. Rotorua is very generous.
Trust Members
Sarah Davies (Acting Chairperson)
Gail Teichmann (Treasurer)
Megan Hohepa
Cushla Hollings
Beth Lang
Myrtle Colebert
Noeline McQueen
Vanessa Malipaard
Penny Spooner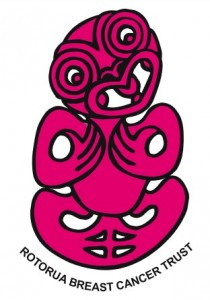 About our Logo
Our fabulous logo was created by former trustee June Northcroft Grant. The Hei Tiki is recognised throughout Polynesia as a symbol representing  human life and also as a tangible memory of ancestors and the love associated with those who have worn the tiki over many generations. June designed the hei tiki with thoughts of guardianship, ongoing life and well being, so the hands of the tiki are covering the breast, representing protection and for the aim of the Breast Cancer Trust, guardianship of this sacred part of feminine form and nurturing propensity.