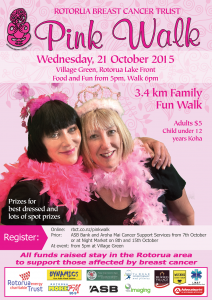 Pair privileged to give back to Breast Cancer Trust
Rotorua women Annie Vandergoot and Allison Melhuish have several things in common.
They've walked the hard road through breast cancer. And although everyone's path is different they say support from the Breast Cancer Trust and friends and family got them through it.
The pair will signal the start of this year's Pink Walk on Wednesday, sending more than 2000 walkers on a 3.4km journey through Rotorua.
Both women have spoken frankly to the Rotorua Daily Post about their experience.
Ms Melhuish, 47, was diagnosed in 2013. Since then she has spent months in chemotherapy and undergoing surgery and is still waiting for a full breast reconstruction after a double mastectomy last year.
Ms Melhuish intuitively knew she had cancer but said it was hard getting a diagnosis.
Blood tests showed her immune system was down and at 44 years of age she wasn't able to take advantage of BreastScreen Aotearoa's free national breast screening programme for women aged between 45 and 69.
She changed her diet and stopped smoking and then the tumours started appearing. She knew all about chemotherapy and the treatment, having nursed her best friend through cancer, and regards herself as "lucky".
"I was told it's a journey, but that's bulls*** – it's a process you have to go through – once you get cancer your life is totally on hold."
She was given a 50:50 chance of survival, always positive she was going to survive it.
"It's not an easy road to go down because you've got one foot in the grave. I just said let's get on with it."
Although her eldest son moved back home to help, Ms Melhuish went through the treatments alone.
"I had a lot of support from the cancer nurses and Breast Cancer Trust. When I met them I was at rock bottom and without them I don't think I would've had the strength to keep on fighting."
When Ms Melhuish's reconstructive surgery is completed she plans to share her experience and support other women.
"It's a scary thing to go through and some women out there haven't got the support. I'm walking on Wednesday to give back what the Breast Cancer Trust has done for me – there was really no help out there, except for the cancer nurses.
"I'm proud to be part of the Pink Walk – it's a celebration for those who've fought the fight and gives recognition to those that have lost the fight.
"It's a privilege just being there and for all of us to be able to come together."
The walk can be an emotional time for some women.
Mrs Vandergoot's first walk was just two weeks after her diagnosis when "it was a bit too raw and too soon".
"Last year I didn't have a buddy to walk with and it was really hard. This time I've got some friends with me."
The 51-year-old nurse, who is married with three children, found a lump after a monthly self-examination. The cancer was a particularly aggressive form and quickly spread to her lymph nodes. After undergoing surgery in 2012 she began six months of chemotherapy, followed by another six months of radiotherapy and started on Herceptin.
"If I'd ignored it for another three months I wouldn't be alive today."
Every day she'd get up and walk with friends and 10-15 minutes into the walk she'd often start to feel better. "It got me out of the house and something to do – sometimes I struggled – you can't just sit around feeling sorry for yourself, you have to get on with it."
The disease and process is very hard on families. She said when you're a mother, "it's not about what you want – it's about them".
"You don't stop being a mother just because you've got cancer."
Chemotherapy is a common type of cancer treatment which can weaken the body. There are often side effects, including fatigue, low immunity, nausea and hair loss. Mrs Vandergoot became very sick with an infection soon after her first treatment and went through the second lot of chemo on her 52nd birthday. Her family watched her getting thinner and she lost her hair – the hardest thing.
"I'd always had long hair. Some people don't care, I couldn't look in the mirror for the first few days and only my husband and daughter saw me without a scarf.
"You end up hiding things because you don't want them to know how dreadful you feel. By the end I'd had enough, but you have to take a concrete pillar and harden up and get on with it.
"The whole thing is not fun, but it's better than being dead."
Walk co-ordinator Kylie Lang said both ladies were important for the Rotorua Breast Cancer Trust campaign because their stories were worth telling.
"We don't want people seeing the walk as a dress-up. Breast cancer affects so many people – everyone knows someone who has gone through it and there's a ripple effect on the family and wider community. It's why we do the walk and getting the message out there about the importance of getting regular checks – people need to realise it's something they have to do for themselves."
This year homing pigeons will be released 10 minutes before the start and time taken to remember those who have passed on. At the end of the walk everyone will be handed a flax flower.
Rotorua Daily Post, 17th October 2015.