Rotorua Pink Walk for breast cancer returns to lakefront next month
Daily Post 26 Sept 2017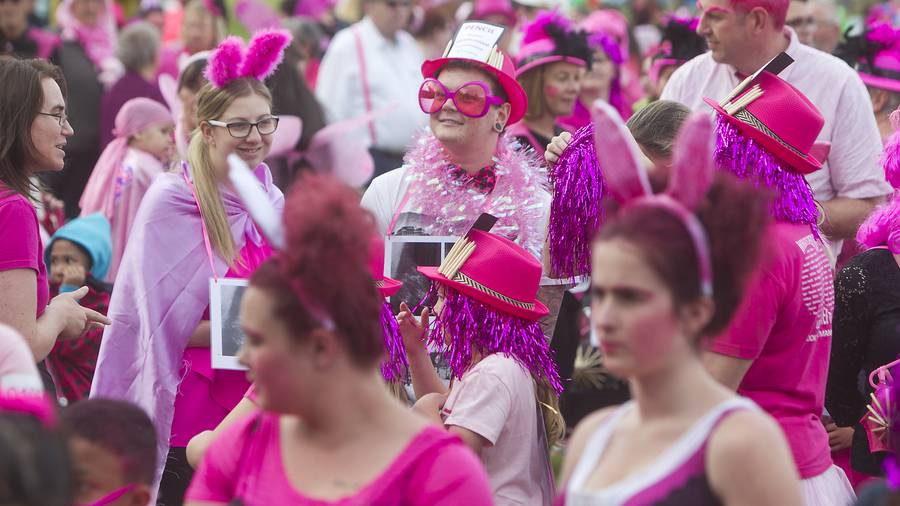 The Rotorua Pink Walk in 2016. Photo / File
Rotorua Daily Post
Think pink, get your creative juices flowing and register for the 2017 Rotorua Pink Walk supporting breast cancer.
Next month's event is a little more special than most. It represents the 10th anniversary of the Pink Walk and has allowed an opportunity to acknowledge the work of the founding trustees.
Rotorua Breast Cancer Trust chairwoman Sarah Davies said that over the years the profile of the trust – and registration numbers for the Pink Walk – had grown.
"We are so thankful to have had fantastic trustees over the years who have put in a lot of hard work to make this event the success that it is, and credit must go to our founding members for having a vision to set up support networks and fundraisers for the people in the Rotorua area."
To mark the 10-year event, the faces of all the current trustees are on posters around town, to raise the women's profiles for the work they do.
"It is also very special to have the wonderful Viv Kermode on the posters too. Viv was our chairperson and a special part of our team and she sadly lost her battle with cancer last month."
Also marking this year's event is a specially designed T-shirt featuring the trust's logo, a hei tiki designed by founder trustee June Northcroft Grant. A limited run of the shirts will be available for $15 at the Pink Walk.
"June designed the RBCT hei tiki with thoughts of guardianship, ongoing life and wellbeing, and so the hands of the tiki cover the breasts, representing protection," Ms Davies said.
The event, along the Rotorua Lakefront on Wednesday October 18, will have prizes for best-dressed male, female, child and team at the Pink Walk. There's also a new prize this year – Ray White Rotorua has donated a trophy for the best-dressed business team.
Online registration for the walk is now open at www.rbct.co.nz/pinkwalk or walkers can register at the event. Entry is $5 for teenagers and adults, and a koha donation for children 12 and under. Registration and entertainment start at 4.30pm and the walk starts at 6pm.