RBCT and Lymph Connection offer for initial L-Dex reading
Lymph Connection consists of Karen Law & Megan Chatfield working together to assist people in the community with Lymphedema management and education. We work from private clinics and also from QE Health in Rotorua.
We have both completed the Dr Vodder Manual Lymphatic Therapy and Combined Decongestive Therapy Training. This enables us to work with Lymphedema providing MLD, Compression, skin care, and exercises for clients.
Lymphedema is a secondary condition that can develop after cancer surgery from Lymph node removal and/or radiation therapy. Lymphedema may develop soon after treatment, within 2 years or even 10-15 years post treatment.
It is now acknowledged that the best outcomes are when treatment begins at the earliest point in time when a change is able to be detected in the tissue. Some early signs and symptoms are:
Rings, bracelets, clothing or a watch band begin feeling tighter than normal
Heaviness, fullness or trickling in your arm
Indentation from pressing your arm which doesn't go away instantly
This is the time to take action.
L-Dex: Impedimed is an Australian company that has developed a machine the L-Dex device, it is the first FDA- cleared medical technology using bio impedance spectroscopy.
A very low frequency electrical signal passes through the tissues via skin surface electrodes. The low current means it only passes through fluid, not bone or muscle. It detects differences between one side of the body and the other. There is no danger or pain in the process.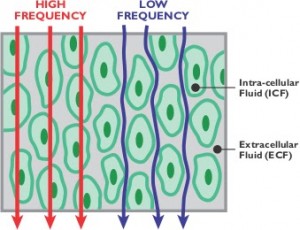 Fluid increase is the first sign of Lymphedema developing. This can start to change some time before any visible signs occur. Hence the L-Dex is a wonderful tool for picking up early signs of change and management at this time can reverse symptoms and certainly prevent later stages of the disease developing. This reduces cost, time and the complications that so often accompany Lymphedema.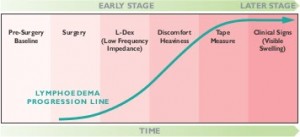 A pre surgery L-Dex reading is ideal so that the baseline is attained before any intervention. If this is not possible then a reading can be taken at any time. In the first 2 years post-surgery it is recommended to have a reading every 3 to 6 months so any change is picked up quickly and managed.
Readings also give an indication of whether treatment protocols are working, maybe some change is required within the treatment, more compliance is needed by the client, why is compliance an issue etc.
The RBCT recognises the value of L-Dex readings for people with breast cancer. They have offered to fund part of an initial reading for members. We are also offering a reduced charge for an initial reading. This means an initial reading and introduction to bio impedance spectroscopy for you will cost $15.00.
Please note this is only a reading, no assessment or treatment at all. We can give some recommendation at the time depending on your result. At present we are asking for expressions of interest in this offer. Once we have an indication of numbers we will schedule a date, time and venue for the readings.
Please email your expressions of interest to:
Megan lotsoflymph@gmail.com or ring 027 389 5151