Hello and welcome to the last newsletter before the 2016 Pink Walk – it is not long to go now. Thanks to those that have registered online already. Click here for all the details for the Pink Walk. We are gearing up for a fantastic night – see you there!
Registration online
Online registration is now open and it just takes a few clicks of your mouse to complete. Adults are still only $5 and children $3. You can pay by credit card or use your paypal account and you can also order a T-shirt at the same time (only $15 each).
Just click on this link to get yourself registered. Don't forget to encourage your friends, family and workmates to register online too.
Other registration options
Another way to avoid the big lines at the Pink Walk is to register by going to one of the following places and signing up and getting your walk number early.
Aroha Mai Cancer Support Services (1318 Pukuatua St)
Fri 14th & Mon 17th to Wed 19th 10am – 3pm
Ray White Real Estate (1239 Amohia St)
Fri 14th Oct 11am-1pm, Mon 17th Oct 4-6pm, Tues 18th Oct 4-6pm, Wed 19th Oct 11am-1pm.
Night Market
Thursday 13th October 5-8.30pm
If none of these suits just register at the event: from 4.30pm at the Village Green.
Night Market
The Rotorua Breast Cancer Trust will have a community site at the Night Market onThursday 13th October. You can register for the Pink Walk, buy a raffle ticket (drawn at the Pink Walk), purchase a T-shirt or a flax flower and of course talk to us about the work we do. Come down and say hello.
Photo credit Ben Fraser
Daily Post Article
Did you see the article in the Daily Post about the Pink Walk? Click here for the link if you missed it. An article with the Poster Girls sharing their story will be in the Daily Post on Saturday 15th October so keep an eye out.
Prizes
A big thank you to those donating prizes to the Pink Walk! Prizes will be given out for the top three in the following categories: Best dressed woman, Best dressed man, Best dressed child, Best dressed team and Best bra. The rest of the prizes are given away as spot prizes so wear your lucky (pink) socks.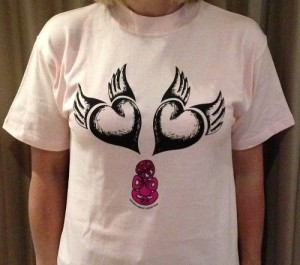 T-Shirts available
If you aren't the dressing up kind, maybe you would like to wear one of our T-shirts to the Pink Walk. Our Breast Awareness T-shirts are only $15 and $10 from each T-shirt goes to helping those in Rotorua with breast cancer. They come in sizes xsmall, small, medium and large. You can click here to purchase a T-shirt on line.
Other options to purchase a T-shirt are at the Night Market on the Thursday 13th October and at the Pink Walk, Wednesday 19th October at the Village Green.
Food and Fun
It is a good idea to bring cash along to the Pink Walk for there will be food stalls and a coffee cart, cup cakes, sausage sizzle and T-shirts. We will have donation buckets too if you wish to get rid of coins weighing you down :]
Pampering Opportunity
Get pampered while helping us fundraise at the same time. Service Skills will donate all income from providing services in their hair and beauty salons on Thursday October 27th and again on Thursday November 10th. Support Rotorua Breast Cancer Trust and pamper yourself by booking in on these days. 
Facials from $15, Eye trio from $15, Shampoo & blow wave from $15, Shampoo and Straighten from $20, Conditioning treatment with blow wave from $25. For more options click here. Phone 07 349 2904 to make an appointment.
Service Skills will have a stall site at the Pink Walk giving free hand massages and you can book in for the fundraising days then too.
Sponsor Thank You!
A big thank you to the team at ArohaMai for taking registration prior to the Pink Walk again. We really appreciate the option for people to register that way so thanks for helping it happen.

Sponsor Thank You!
Mike Baird at Ray White Real Estate has jumped on board with the Pink Walk this year and is a base for pre-registering prior to the walk. Thanks heaps!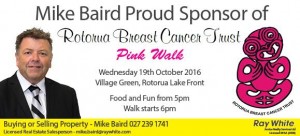 Join our facebook page to always know what is happening and to see the walk photos. Thanks for reading the Pink Walk newsletter…see you on the 19th!
Rotorua Breast Cancer Trust